Mexico Reimagined
The Mexican national team is in trouble. They have chosen a path that is fraught with peril. This is not a road less traveled type of situation here. There will be no fringe benefits; this won't make them tougher. El Tri are headed down the path of the bad ending in a Choose Your Own Adventure book. It's going to get ugly, and unlike the reading of those literary relics, there are no re-dos. El Tri have made their bed ...
It's hard to be too harsh on the Mexican Federation for hiring Miguel 'Piojo' Herrera. Mexico was desperate. The qualifying campaign was in shambles. Through the misuse of players and continual stubbornness to tactical absurdity, 'Chepo' de la Torre clearly overstayed his welcome with the team. And while the federation gave Chepo every benefit of the doubt, they flipped completely in the following months. Victor Vucetich was sort of brought in. Luis Fernando Tena was paraded through. Neither were given a real chance to right the listing ship. But desperate times called for desperate measures, no matter how faulty they were (and they were).
Miguel Herrera was brought in to qualify Mexico for the World Cup. He did that. He brought in his domestic-based squad, largely comprised of his Club America team, and handled the overmatched New Zealand. With that mission accomplished, Piojo was extended as the permanent manager to guide Mexico through the World Cup. 
On the surface, there are no issues with this hire; Herrera is a good manager who was able to turnaround the caustic environment at America and make them a force in a short amount of time. He could have been good for Mexico. However, he brought with him a formation and roster to match that could end up being even more problematic than the clogged toilet central midfield of Chepo (not really - nothing was worse than this. Nothing). 
The backline will be a disaster for Mexico in the World Cup. I want to be clear here about the tone and the forcefulness of the statement I am making. This defense is going to be a serious problem.  I am not hedging here. There are no qualifiers. I purposely did not include a "could be" or a "may be." This defense will be ill-equipped to deal with the pressures of a high quality opponent.
The problem is quite simple. Miguel Herrera is using what worked for him with Club America, with many of the same players. The problems that his lineup and roster produced at Club America were papered over by the general talent gap from many of the other league teams.  Few league teams had comparable talent to exploit the weaknesses the team presented. This will, unfortunately, not be the case in Brazil.
What are the problems with Piojo's El Tri, exactly?
Let's first look at a possible World Cup starting eleven for Herrera: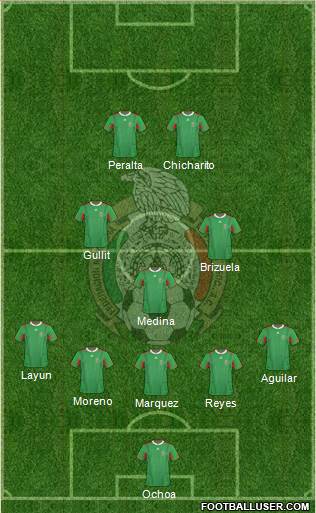 While there a certainly some positions still in flux, this should be the basic set-up for Mexico at the World Cup. If I was a betting man, this would easily be my pick for Piojo's first starting eleven in Brazil.  The concerns reside in the back line and the man sitting directly in front of them.
In general, I have no issue with the 5-3-2 formation. With all formations, I believe they should be a fit for your personnel, talent, and how they match your opposition. Mexico, in this formation, facing World Cup rosters waves some serious red flags.
Starting in the middle, the supposed rock of the roster and defense is the one and only Rafa Marquez. I am actually starting to get concerned that the entirety of the followers of El Tri are suffering from some sort of memory loss episode. Perhaps, there's a break in the space time continuum or issues with flux capacitors. It's unclear exactly why so few people are freaking out about the fact that 35 year old Rafa Marquez is about to anchor a 3-man defense against World Cup talent. This is not Barcelona Marquez. He's not the same player any more. He's a much, much, much slower version of that Marquez. I will concede that he is no longer the New York Red Bulls Marquez. He's surely found a way to improve his play since those ugly days, but some parts of his game remain a constant. He's not to be trusted. He's reckless in challenges, loses his responsibilities, and isn't that great defending set pieces. If I was to fill out a job requirement listing for a central defender, I'm fairly certain those three attributes would come pretty early. They would be written in big scary bold font if I was planning on using a three man back line.
But a 5-3-2 formation has five defenders, doesn't it? Well, nominally it does. The other two "defenders" are the wing-backs. The wing-backs are  sort of hybrid midfielder and defender. They have a defensive responsibility, but also serve the function of storming up the wings and further connecting the defense with the attack. Again, I have no issue with the position or the overall formation. I take great issue with the players Piojo is likely to use in these positions. Miguel Layun appears to be as close to a lock for one of these spots as you can get (after all, he did have several great unchallenged crosses against Trinidad and Tobago in the Gold Cup). I can be even more cynical about Layun's inclusion in the national team, but I will dial it back for the sake of clarity and efficiency of argument.  I will also relent because the other side in even more troubling. With Layun likely to slot in on the left, the right wing back should fall to either Paul Aguilar or Rogelio Chavez (with the other option being Layun on the right with Ponce or Guardado on the left). The most likely to take the spot will be Aguilar as he's had the most time in the position under Herrera and Chavez has just this one game in Arizona to prove himself.
Aguilar and Layun are not defenders. They are liabilities when they need to take up their defensive duties. Layun is capable of a solid cross and making the unexpected and tricky shot. Aguilar is good in open space and getting down the field in a hurry. These are good attributes for a midfielders. It's just that this position demands more from them. They are poor defenders. This is a non-issue against lesser sides (sorry, Kiwis), when the wing-backs aide in pressing the team into submission. When facing teams with equal or greater talent, they need to assume more of a defensive role. I don't believe them capable of doing this effectively.
The other concern in the Piojo roster is at the defensive midfield. To be honest, this would be an issue no matter the manager. Gerardo Torrado and Carlos Salcido faded too fast to contribute. Hector Herrera was never given enough time in the Chepo era to work in to the role. The form of Jesus Zavala (the man who should have assumed the role) fell off a cliff. This form then tumbled down into a rocky abyss and produced enough explosions to make Michael Bay squeamish. In other words, he's been bad. Really quite bad.
So, we now have Juan Carlos 'Negro' Medina as the likely starter in that position. I don't have any real way to sugar coat this, so I'm just going to be direct - Medina is not a very good soccer player. He's serviceable on his club team. He belongs nowhere near a national team. Jose Juan "Gallito" Vazquez is probably the best current option for the role, but there's no guarantee he will have his paperwork sorted out by then. Regardless of who ends up claiming the spot, they will hardly be the rock of consistency that a 3-man defense necessitates from the position.  Trouble     
It didn't have to be this way. There were always going to be issues with so many integral players justifiably dropping off the expected starting lineup for Brazil. In addition to Zavala, Jorge Torres Nilo, Andres Guardado, Giovani Dos Santos, and of course Chicharito Hernandez were all virtual locks to be in the starting eleven for the World Cup. Now, of this group, only Dos Santos and Chicharito are likely to make the roster. Still, it shouldn't have gone this way. Mexico doesn't need to sacrifice so much in defense to create opportunities going forward. El Tri should have enough offensive firepower from the wealth of midfield options in the player selection pool. Tossing out everything from the Chepo-era only serves to change for the sake of changing. Some players played well, even when they were being used out of position.
Resetting the deck and looking at how the talent might fit in to a roster that best serves the overall abilities rather than the approach of the manager, gives us something like this: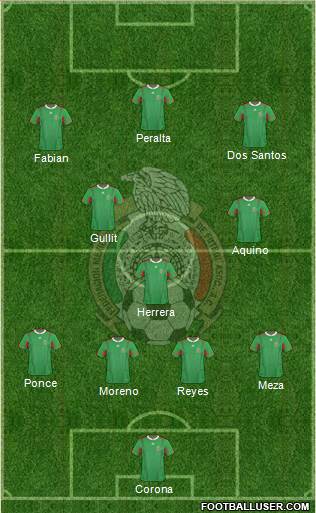 It's not perfect. It's not taking Mexico to the final. It's just better. Let's look at some of the position battles a bit closer.
GK:
Corona, Ochoa. Ochoa, Corona. We could debate it, but let's just not. Either keeper would be great for Mexico. No matter who gets the start, Mexico will have a solid goalkeeper. We should also all be in agreement that Alfredo Talavera should be the third keeper.
LB:
I went this Miguel Ponce here because of his current form and flexibility. Ponce is having a great season with Toluca and has played well in his limited run with the national team. He has the ability to get forward well without shirking defensive duties. There's an argument to be made for Layun or Guardado in this position, and to be honest I wouldn't be overly opposed to either taking Ponce's place. This spot still seems pretty open to me. However, there's little doubt that El Tri would be better served if they had the Torres Nilo of a few years ago. Has he returned to form, as his recent play with Tigres might suggest? I don't know, but after his Confederations' Cup performance, we won't be finding out.
RB:
Severo Meza is a good defender. Somehow this has been lost over the past year. Meza performed very well for El Tri even through the nightmarish qualifiers. He can't do much going forward, but it's also not needed. We need someone to stay home and defend. He's clearly the best option to do that. Above anything else, you know you will get maximum effort and is someone who stays cool under pressure. There's something to be said for having reliable defenders in your starting lineup. Also, let's not forget that Meza is Neymar kryptonite.
DM:
This might just be more wishful thinking than anything else. Hector Herrera hasn't done this for Mexico. It's possible that he gets pulled too far forward and loses his holding role. Then again, it's also possible that he is the key that links the back line to the midfield and forwards. He has the talent to do it, unlike the other options at this position. It's also worth noting that the DM is less vital in the defensive role, when using four defenders.
RM:
I went with Aquino here for several reasons. I like the idea of him working with this collection of players surrounding him. He would have Dos Santos in front of him. I would expect the two to work well together. I still remember how well Aquino and Peralta worked off one another in the Olympics. Their partnership was a big part of the team's success. He would have Severo Meza behind him, so an occasional let-up on the defensive side wouldn't be a disaster. It's also worth noting Aquino's strength of pressuring the ball. His ability to cause havoc in the midfield and turn that in to sloppy passes and the play going the other direction is a severely underrated part of his game.
I would also consider Isaac Brizuela here. While I don't believe Brizuela is the best player in Liga MX at the moment,  he is more natural in this position than Aquino and has a the one thing Aquino lacks - a powerful shot. Brizuela is a great player but not all the way there yet.
LW:
Marco Fabian should be starting for Mexico. Have you been watching him with Cruz Azul this season? He is killing it in every aspect of the game and this would be the perfect position for him. There is no one else that could even be considered here. Fabian is not a flash in the pan player on a hot run. He's always been this player. Everything didn't always go well at Chivas, but what does? Fabian in this position, playing off Gullit and Oribe Peralta would be massive for Mexico. Get it done, fictional El Tri manager that doesn't exist.
RW:
Look, Gio. You have ideas as to where you should be. You're wrong. This is where you need to be playing. We know you're not a 'number 10' and not a true winger in the 4-4-2 sense. Your abilities, if not your brain, dictate that this is your spot. Suck it up.
If Dos Santos was unable to suck it up, you could consider the other group of forwards or even Brizuela here. It would just be a big drop off.
This Land of Make Believe El Tri would handle the current and expected one pretty easily. They would fare better in the group stages and pose a bigger threat in the tough battle that awaits should they advance. Sadly, this strongest form of El Tri will not be taking the field this year. Mexico are going to try to accomplish more with less than they have. 
 By Jason Marquitz
** the photo is used under a Creative Commons license from elycefeliz
Category: